Bernard Herrmann (1911–1975): Whitman – Souvenirs de voyage – Psycho: A Narrative for String Orchestra
Summary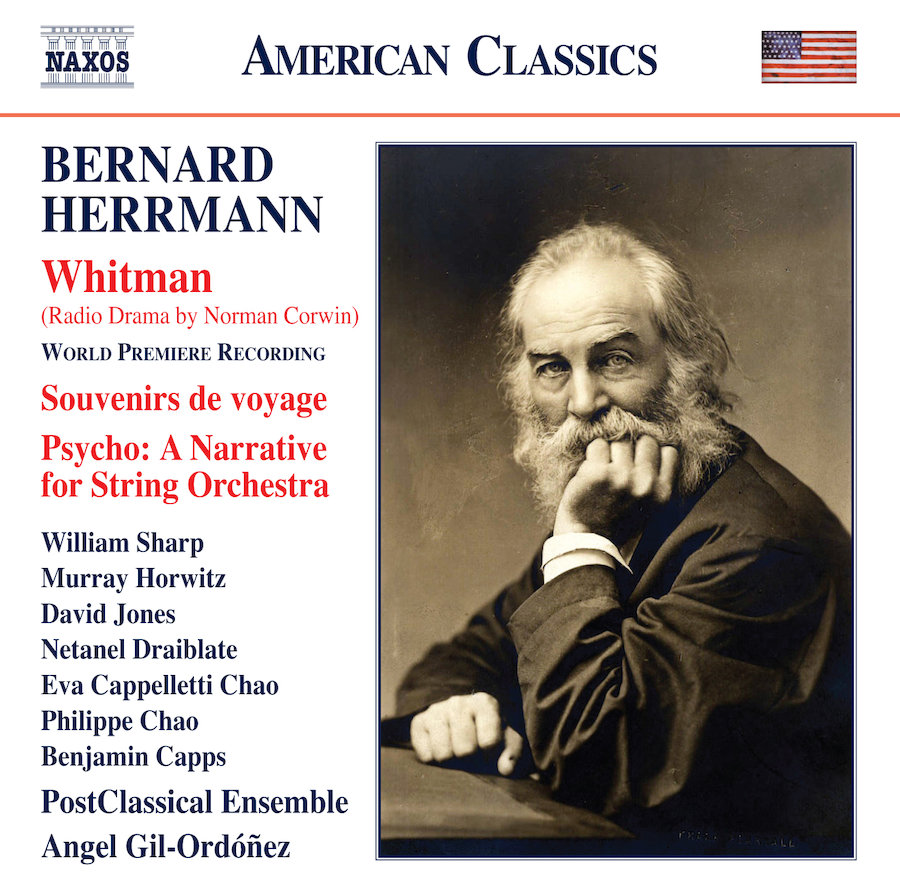 Herrmann's versatility in three genres —radio, chamber music and film— is captured on this absorbing recording featuring the PostClassical Ensemble…

Donald RosenbergGramophone
Available on Spotify and Apple Music.
Bernard Herrmann was famous for his film scores, but he was also a leading figure in music for radio, to which he brought his inimitable palette of mood and sonority. Whitman, whose subject is Walt Whitman's collection of poems Leaves of Grass, was a 1944 radio drama, a genre now much neglected but revived in this newly restored version. Psycho: A Narrative for String Orchestra is not a suite or excerpts from the film but a concert work, re-ordered and re-composed, while Souvenirs de voyage is one of the most polished and seductive of all American chamber works.
About this recording
Presentation
Why Bernard Herrmann?
With the waning of modernism, and of the high value once placed on complexity and originality, the topography of 20th-century music is rapidly changing. One of the chief American beneficiaries is certain to be Bernard Herrmann.
Everyone appreciates Herrmann for his singular achievements as a film composer. Without him, there would be no Psycho, North by Northwest, or Vertigo, and Citizen Kane would be a far lesser film. But Herrmann also produced a substantial catalog of concert works in the same style. He was as well a great figure in the forgotten history of radio. Though he clung to tonality, he created a palette of mood and sonority that is instantly recognizable and wholly his own. Defining himself in opposition to contemporary tastemakers, he once wrote: "Musically I count myself an individualist. I believe that only music which springs out of genuine personal emotion is alive and important. I hate all cults, fads, and circles."
Bernard Herrmann was born in New York in 1911 and died in Los Angeles in 1975. He joined CBS as a radio conductor, arranger, and composer in 1933 and there promoted a remarkable variety of important music; his studio guests included Bartók and Stravinsky. As an innovative composer for radio, he was the most important musical collaborator with Orson Welles and—the most honored practitioner of American radio drama—Norman Corwin. In Hollywood, Herrmann was especially linked with Alfred Hitchcock. Herrmann's movie scores—51 in all, of which The Ghost and Mrs. Muir (1947), with its daring "Liebestod", was his personal favorite—are among the most honored ever created. But Herrmann sought wider recognition as a conductor and concert composer.
Of the three Herrmann concert works here recorded, the Psycho symphonic narrative is not the Psycho Suite more commonly performed. That is: it is not a compendium of excerpts from Hitchcock's 1960 film, but a concert work composed by Herrmann in 1968 in which excerpts from the film score are re-ordered and recomposed The conductor John Mauceri, who is responsible for rescuing this score from oblivion, writes: "It is not a suite, nor is it a sequence of short cues to accompany film clips; it is intended to free the music from the visual elements of the film. In this sense it is not unlike Prokofiev's Alexander Nevsky cantata and Vaughan Williams' Sinfonia Antarctica—musical material from a film score had been adapted into a concert work."
In Vertigo (1958)—arguably Herrmann's highest achievement with Hitchcock—the musical pièce de résistance is a seven-minute Scène d'amour. "[When] we go into the love scene we should let all traffic noises fade because Mr. Herrmann may have something to say here," reads a Hitchcock production note. Mr. Herrmann's something, with its shuddering tremolos and tender fournote melodic turn, secures his stature as a major American composer as potently as anything could. Kindred to this cinematic love scene is the music that may be Herrmann's supreme achievement for the concert hall—the 1967 clarinet quintet Souvenirs de voyage. It is a stubbornly inward work, suffused with nostalgia and melancholy. I cannot think of a more seductive, more finished chamber work by an American.
The long first movement is to my ears a formidable compositional achievement by any standard. It also furnishes an irresistible vehicle for the ranginess and seamless legato of the clarinet. The liquid ebb and flow of sound, the lapping waves of song, the interpolated valse triste acquire a barely perceptible cumulative momentum, an intensification of multiplying eddies and ripples. When the movement's hypnotic Molto tranquillo beginning returns at the close, we feel we have journeyed somewhere even if that makes no ultimate difference in a world of sadness and remembrance.
The quintet's second movement is a rocking Berceuse whose disturbing existential undertow is of course a Herrmann signature. The final Canto amoroso begins with the violins singing a love duet in thirds. Soon the thirds accelerate as romantic zephyrs. A Venetian carnival is heard across the water. From Steven Smith's superb Herrmann biography, A Heart at Fire's Center (2002), we learn that J.M.W. Turner's Venetian canvases were here a point of inspiration. Equally pertinent is the quintet's dedication to Norma Shepherd, who became Herrmann's third wife the same year this music was composed. In the turbulent world of Bernard Herrmann, Souvenirs de voyage is a balm.
When PostClassical Ensemble produced a monthlong Herrmann festival in 2016, the big discovery—thanks to the Herrmann authority Christopher Husted—was a 1944 radio play he scored for Norman Corwin. This was Whitman. Like so many of Corwin's radio plays, its wartime purpose was to rally the home front. The text comprises verbatim Whitman, selected and choreographed by Corwin. The music is scored for strings, harp, piano, and percussion. The combination is hypnotic. The present world premiere recording is undertaken in the conviction that this 25-minute radio drama—a genre now long forgotten—deserves revival as an American concert work for actors and orchestra.
Walt Whitman was one of three writers who most influenced Corwin's distinctive free-verse style, the others being Carl Sandburg and Thomas Wolfe. That the Whitman idiom anchored the once-famous radio dramas of the Forties is an aspect of his influence insufficiently known.
– Joseph Horowitz
Program / tracklist
Whitman (reconstructed by C. Husted, 2019)
Introduction: I, Walt Whitman, heard that you asked for something to prove this puzzle the New World (Whitman) – 00:00:45
Welcome: You! Whoever you are! (Whitman) – 00:01:27
Perpetual Journey: I tramp a perpetual journey (Whitman) – 00:04:10
Listen: Listen: when the psalm sings instead of the singer (Whitman, Stranger, Cynic) – 00:02:07
Cosmos: A cosmos, of Manhattan, the son! (Whitman, Stranger) – 00:01:15
Song: A simple separate person (Whitman, Cynic) – 00:02:19
Oath: I celebrate myself, and sing myself (Whitman, Child) – 00:03:05
Miracles: I believe a leaf of grass is no less than the journey - work of the stars (Whitman, Child) – 00:02:05
Battle: Of life immense in passion, pulse and power, I sing (Whitman) – 00:01:22
War: I will acknowledge contemporary lands (Whitman, Radio Voice) – 00:06:08
Ships: Flaunt out, O sea, your separate flags of nations! (Whitman) – 00:02:08
Divinity: Listener out there! (Whitman) – 00:01:40
Finale: I see not America only (Whitman) – 00:02:26
Souvenirs de voyage
I. Lento: Molto tranquillo – 00:09:57
II. Berceuse: Andante – 00:06:56
III. Andantino: Canto amoroso – 00:07:33
Psycho: A Narrative for String Orchestra (reconstructed by J. Mauceri for string orchestra)
Psycho: A Narrative for String Orchestra (reconstructed by J. Mauceri for string orchestra) – 00:15:49
Artists
PostClassical Ensemble
Angel Gil-Ordóñez, conductor
David Jones, clarinet
Netanel Draiblate, violin
Eva Cappelletti-Chao, violin
Philippe Chao, viola
Benjamin Capps, cello
William Sharp, narrator
Murray Horwitz, narrator
Annasophia Nicely, narrator