Revueltas: Redes / Copland: The City. 2 Classic Political Film Scores
Summary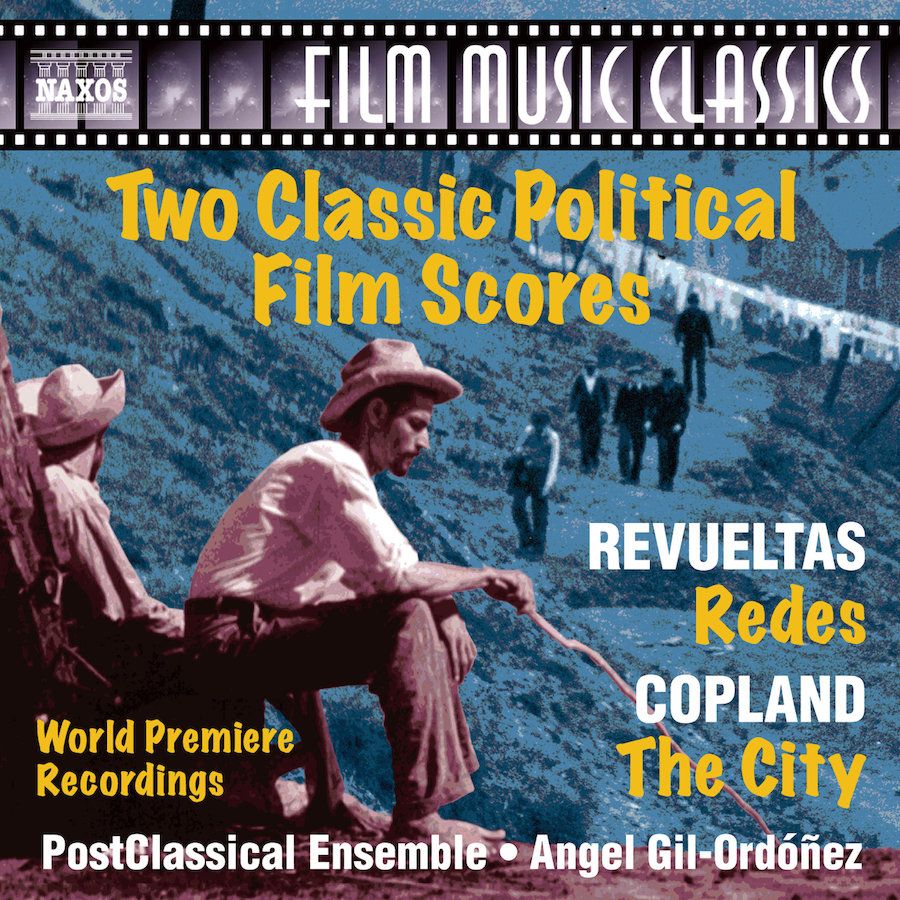 Available on Spotify and Apple Music.
Revueltas and Copland wrote prolifically for film, and these scores are their greatest achievements in the medium. The scores were crafted for two of the most formidable and politically motivated films of the time. Redes is a story of victimised fishermen in Mexico – and the subject matter drew from Revueltas passionate music that Copland himself admiringly described as "vibrant and colourful." The City is a documentary that reveals the musical missing link between Copland's "urban" and "country" idioms, prescient of minimalism, and masterly in construction and effect. Without narration or dialogue, both scores are heard here for the first time in full.
Reviews
My regular readers know that I generally avoid "classic film scores" like the plague, only making exceptions for the truly exceptional ones, whether classical or jazz. I made an exception for this disc because Silvestre Revueltas, whose name is unfortunately not as well known north of Mexico as it should be, and Aaron Copland were two of the finest composers of their time.
The vital and immensely colorful, very narrative music [of Redes] is superbly played under the direction of Angel Gil-Ordonez. […] Copland's score is highly atmospheric and supports the expressiveness of the images with no less expressive, quasi-argumentative music. The result is a wonderful, highly original score with a lasting effect, which can be heard on this CD in a very haunting interpretation. Listened to without the movie pictures, it becomes, like the music of Revueltas, a magnificent tone poem.
About this recording
Presentation
As in the Thirties, political art is today upon us: writers and painters, composers and dramatists understandably feel impelled to espouse social justice.
Rarely does political art achieve permanence. Historically, Russians, Germans and Mexicans have been better at it than practitioners in the United States. Why this should be so is an interesting and important question. Mexico in the 1930s was a mecca for artists who wanted to make a difference. It attracted Aaron Copland, Sergei Eisenstein, Langston Hughes, John Steinbeck, Paul Strand. The Mexican muralists – and also a remarkable Mexican composer, Silvestre Revueltas – combined politics and aesthetics to inspirationally assert national pride and purpose.
The two scores here recorded originate with 1930s political films that retain historic and artistic interest. Both Revueltas and Copland migrated far to the political left during the Depression years. Though both composed copiously for film, Redes and The City are their peak achievements writing for the movies: consequential films whose music is an integral creative component. As neither Revueltas nor Copland extracted a comprehensive concert suite from Redes or The City, neither score is nearly as well known as it should be. The present recording, culled from a pair of Naxos DVDs featuring Redes and The City with newly recorded soundtracks, is in fact the first to present either score in full, without narration or dialogue.
At the same time, Redes and The City are as different as the composers themselves. Copland was a polished Modernist whose neo-Classical aesthetic was inspired by Stravinsky. Revueltas was a self-made genius, a born populist, whose idiom is as uncategorisable as it is original. Copland, in his lifetime and thereafter, was and is familiar and iconic. Revueltas, though increasingly performed, retains his reputation as "Mexico's most famous unknown composer." I would also call him the most important political composer of concert music produced in the Western Hemisphere, a composer for orchestra as distinctive and accomplished –his sonic signature is unique– as anyone to the north, Copland included.
– Joseph Horowitz
Program / tracklist
Silvestre Revueltas (1899–1940): Redes (1935)
Introduction – 00:02:48
Palms and Huts – 00:01:16
The Village – 00:00:54
Funeral – 00:04:22
The Fisherman – 00:01:33
Good Fishing – 00:06:36
Nets – 00:03:19
Fighting – Unity – 00:04:20
Finale – 00:09:09
Aaron Copland (1900–1990) : The City (1939)
A New England Village – 00:04:32
Steeltown I – 00:04:37
Steeltown II – 00:02:35
The City I – 00:01:08
The City II – 00:11:06
New Town I – 00:00:41
New Town II – 00:04:52
New Town III – 00:00:40
New Town IV – 00:01:33
New Town V – 00:01:06
Finale – 00:01:03
Artists
PostClassical Ensemble
Angel Gil-Ordóñez, conductor