Paris at Midnight: Jazz and Surrealism in the 1920s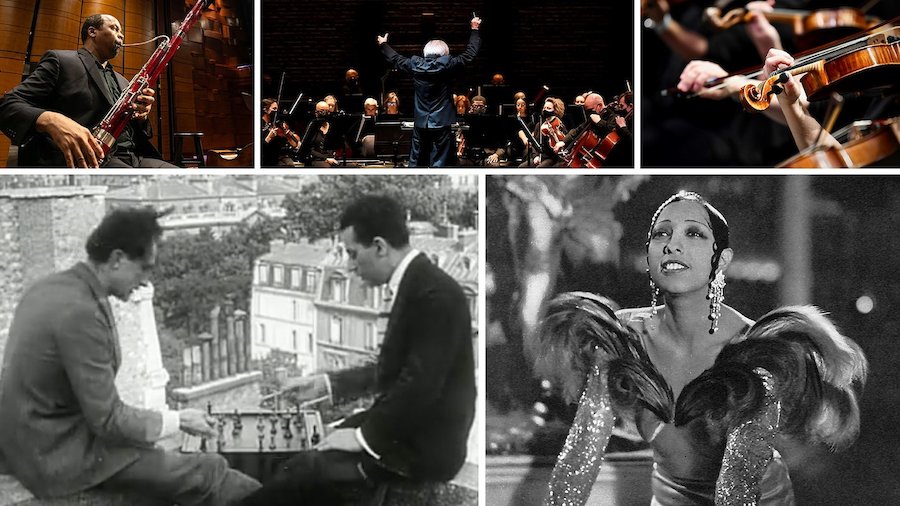 Paris in the 1920s was a place of great artistic conflict and excitement. While some like Igor Stravinsky and Pablo Picasso embraced Neo-Classicism and a "return to order" in the aftermath of the Great War, others launched bold new experiments. Under the leadership of André Breton, Surrealism sought to shock the bourgeoisie, while a passion for African and African American art and culture, from jazz to art to dance, galvanized the city, personified above all by Josephine Baker.
Join PostClassical Ensemble for a screening of the classic Surrealist film Entr'acte (René Clair, 1924) with the original score by Erik Satie performed live. The program also includes film footage of Baker dancing and a tribute to jazz great Sidney Bechet. It culminates with Maurice Ravel's partly-jazz-inspired Piano Concerto in G featuring soloist Drew Petersen, winner of the 2018 Avery Fisher Career Grant and the 2017 American Pianists Award.
Presented in collaboration with Harry Cooper, senior curator of modern art at the National Gallery of Art.
Program
Cinéma (1924): Entr'acte symphonique du ballet Relâche pour le film de René Clair
Music by Erik Satie

I. Chimneys; deflating balloons
II. Boxing gloves and matches
III. Scenes from the air; chess game and boats on roof
IV. The female dancer and figures within water
V. The hunter and the beginning of the funeral
VI. Funeral March
VII. Funeral procession in slow motion
VIII. The chase
IV. The coffin's fall and the emergence of Börlin
V. The End (Screen bursts and The End)

Zouzou (1934): film clip with Josephine Baker Jean Gabin, Pierre Larquey, Yvette Lebon
Sidney Bechet: Jazz Set (1897–1959)
Maurice Ravel (1875–1937): Piano Concerto in G Major

I. Allegramente
II. Adagio assai
III. Presto
Post-Concert Discussion with Drew Petersen, Harry Cooper, and Angel Gil-Ordóñez. Presented without intermission.
Artists
Harry Cooper, guest curator
Drew Petersen, piano
David Jones, clarinet
Jim Roberts, guitar
Aaron Clay, double bass
Joe Connell, drums
Simone Baron, accordion
PostClassical Ensemble conducted by Angel Gil-Ordóñez
Practical information
News / Reviews
---
Latest performances