Music Under Stalin: Inmersion experience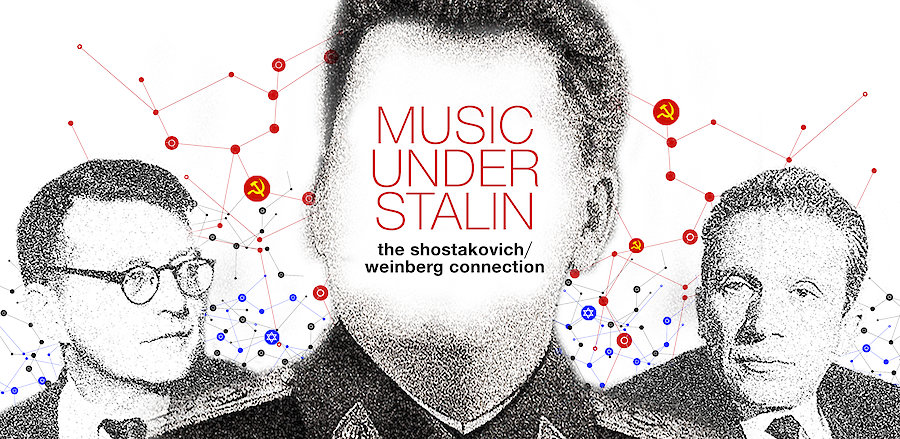 Music Under Stalin consists of 4 programs:
Weinberg, Shostakovich, and "Jewishness"
Date: March 7 at 7:30 pm
Venue: The Edlavitch Jewish Community Center of Washington, D.C.
Program: Mieczyslaw Weinberg: Sonata No. 1 for Solo Cello / Shostakovich: Piano Trio No. 2 (1944) / Weinberg: Piano Trio (1945)
Artists: Netanel Draiblate, violin / Benjamin Capps, cello / Alexander Shtarkman, piano
Film Screening at the National Gallery of Art: The Cranes are Flying
Date: March 11, 2017 at 2:30 pm
Venue: National Gallery of Art
Program: Weinberg solo cello music
Artist: Benjamin Capps, cello
The Cranes are Flying (1956) –the famous Soviet film (a fascinating study in the creative application of Socialist Realism), with music by Mieczyslaw Weinberg. Commentary by GWU film scholar Peter Rollberg.
Film Screening at the National Gallery of Art: Shostakovich Viola Sonata
Date: March 19, 2017 at 4:00 pm
Venue: National Gallery of Art
Shostakovich Viola Sonata (1981) –a documentary film by Aleksandr Sokurov. Commentary (and some performing) by Alexander Toradze.
The Shostakovich-Weinberg Connection
Date: March 25 at 7:30 pm
Venue: Sidney Harman Hall, Harman Center for the Arts
Program: Shostakovich: Piano Concerto No. 1 / Theatrical interlude with Edward Gero as Shostakovich / Shostakovich/Barshai: String Symphony, Op. 110a / Mieczyslaw Weinberg: Symphony No. 10
Artists: Alexander Toradze, piano / Edward Gero, actor / Chris Gekker, trumpet
PostClassical Ensemble's tradition of immersion experiences continues with an exploration of the complex relationship between Dmitri Shostakovich and Miecyslaw Weinberg (1919-1996). Interest in Weinberg is rapidly growing. The violinist Gidon Kremer, who is leading the charge (and who performs the Weinberg Violin Concerto with the National Symphony in January 2017), considers Weinberg as significant as Shostakovich.
Weinberg and Shostakovich continually influenced one another over the course of a remarkable creative conversation. In particular, the spare "late style" of both composers arose collaboratively, and so did their earlier use of Jewish themes.
Weinberg was Jewish –a Polish refugee whose parents and sister perished in the Holocaust. Though Stalin's Soviet Union rescued him, Weinberg was himself arrested in 1953 as part of Stalin's war against the Jews. Also, his father-in-law, the famous Jewish actor Solomon Mihkoels, was in 1948 the first victim of this internal war.
The distinguished Jewish-music scholar James Loeffler, who takes part in PCE's festival, adds: "Weinberg, having lost his Polish identity, was twice a survivor –of the Holocaust and of Stalin's Jewish purges. Survivor guilt is intrinsic to his creative identity. He made his god the anti-Fascist Red Army.
Practical information
News / Reviews
---
Latest performances