Beyond Category: The Concert Music of Duke Ellington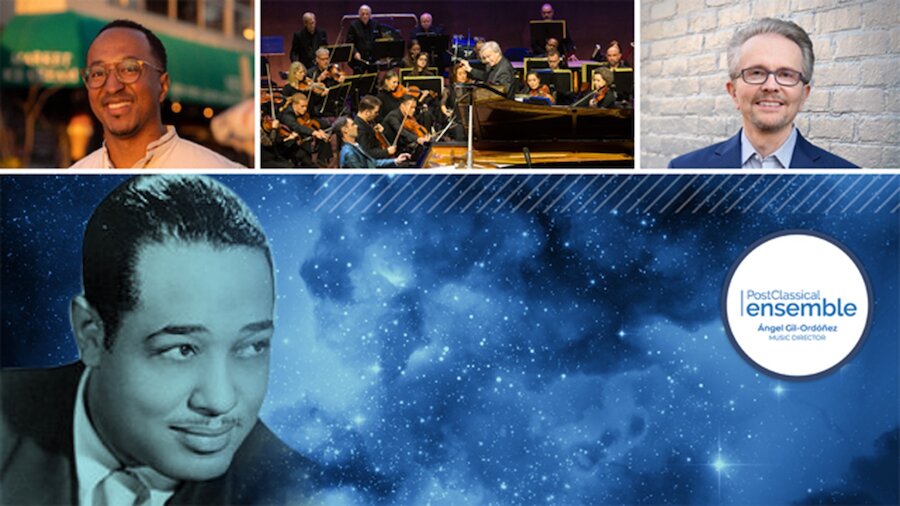 With a career that spanned 50 years, DC native and American icon, Edward Kennedy "Duke" Ellington, is known around the world for such jazz standards as Mood Indigo, Solitude, and his band's signature tune Take the "A" Train, composed by collaborator Billy Strayhorn.
But Ellington sought to break out of stereotyped boxes, to explore broader creative horizons. His masterworks include scores for ballet, opera, motion pictures, and Broadway musicals as well as for symphony orchestras.
This spring PostClassical Ensemble journeys through the music of Ellington's extraordinary yet little-known concert pieces, including his magnificent Black, Brown, and Beige, the suite from the ballet The River, and the debut of Scott Silbert's orchestration of Caravan, featuring guest conguero Felix Contreras.
Program
Duke Ellington: Black Beauty
Duke Ellington: Black, Brown, and Beige
Duke Ellington: excerpts from the film Anatomy of a Murder
Duke Ellington: A Single Petal of a Rose
Duke Ellington: Suite from The River
Duke Ellington: Where is the Music? (arr. Scott Silbert)
Duke Ellington: Caravan (arr. Scott Silbert)
Post-Concert Discussion
Artists
John Edward Hasse, guest curator
Ellington Carthan, pianist and host
Felix Contreras, conga
PostClassical Ensemble conducted by Angel Gil-Ordóñez
Practical information
---
Latest performances
Beyond Category: The Concert Music of Duke Ellington
04/16/2024—04/16/2024
Amazing Grace: In Paradisum
01/10/2024—01/10/2024
Bouncing Off The Walls: Music and Architecture
11/16/2023—11/16/2023
Nights in the Gardens of Spain
10/12/2023—10/12/2023
A Celebration in Ankara
07/27/2023—07/27/2023