The Star of Ethiopia: Samuel Coleridge-Taylor's Historic Visits to D.C. (1904-1910)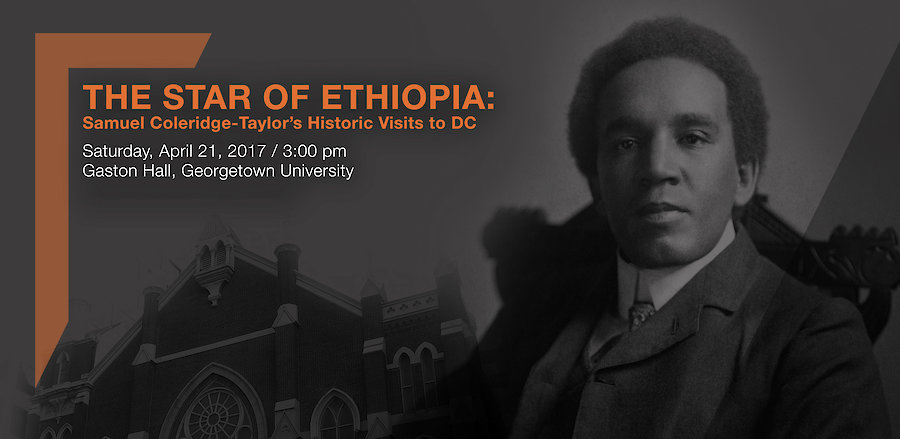 W. E. B. DuBois, who celebrated Coleridge-Taylor in his musical pageant The Star of Ethiopia, wrote: Fortunate was Coleridge-Taylor to be born in Europe and to speak a universal tongue. In America, he could hardly have had his career. He was one with that great company of mixed-blooded men: Pushkin and Dumas… and Douglass.
In Washington, D.C., where he conducted at the Metropolitan AME Church, Coleridge-Taylor was the toast of the African-American community —and avidly absorbed the music of black America. In collaboration with Harry Burleigh and others once associated with Dvorak, he played a dynamic role adapting spirituals for the concert hall.
Artists
A PCE production in collaboration with the Georgetown University Department of Music
Steven Mayer, piano
Marty Lamar, baritone
Members of PostClassical Ensemble
Choir of the Metropolitan AME Church
Georgetown University Orchestra conducted by Angel Gil-Ordonez
Scripted and produced by Joseph Horowitz
Commentary by Anthony Cook and Maurice Jackson
Orchestral and keyboard music by Coleridge-Taylor, Harry Burleigh, Louis Moreau Gottschalk, and Antonin Dvorak
Practical information
Admission: Free
Pre-concert talk at 2:15 pm
---
Latest performances